click for hi-res version
click for hi-res version
click for hi-res version
click for hi-res version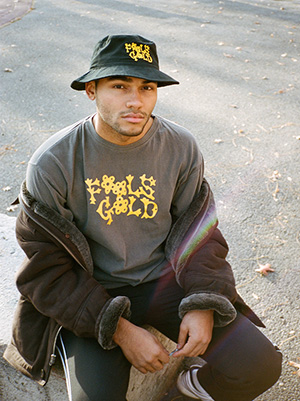 click for hi-res version
FOOL'S GOLD DEBUTS WINTER CAPSULE COLLECTION
WEEKLY IN-STORE PROGRAMMING CONTINUES

Iconic label Fool's Gold debuts the lookbook for their Winter capsule collection today. A colorful callout to the flower children and extraterrestrials of New York City, the collection features graphics by Kristopher Buhidar, Bryan Rivera and Pete Sharp. The collection, premiered earlier this month at ComplexCon, includes everything from oversized longsleeve tees and Champion sweats to customized Dickies work shirts and embroidered bucket hats, collaboration items with Thumpers NYC and even a classic Manhattan Portage DJ bag. Check out photos from the lookbook shot by Aidan Cullen below and shop now at store.foolsgoldrecs.com and the label's brick & mortar headquarters at 147 Grand Street in Brooklyn. 

After hosting hugely successful pop-ups by the likes of Desus & Mero, Comethazine, Brujas and ItsTheReal in recent months, Fool's Golds in-store programming continues at their Brooklyn headquarters. Showcasing and fostering the New York creative community, the Fool's Gold recent in-store events include music workshops (DJ lessons by A-Trak, talkbox lessons by Chromeo's P-Thugg), art shows (prolific illustrator Chris Wilson, streetwear pioneer Eli Morgan Gesner and painter B. Thom Stevenson), brand takeovers (Brujas, MoAndMo), music release parties (Remy Banks, Michael Christmas), A/V Nights and more. Don't miss a Black Friday blowout sale this Friday November 23rd, and stay tuned for the December programming that will include a magazine release seminar and Q&A with Undo Ordinary, a store takeover by Thumpers NYC and pop-up by cult basketball podcast Cookies. 

Fool's Gold has long been a breeding ground for rising talent, and an IRL connector for scenes and generations. The orbit of talented creatives hovering around the company (founded by DJs A-Trak and Nick Catchdubs) is without peer, from performers at the label's Day Off festival to the international family of artists contributing to Fool's Gold apparel, sleeve artwork, lookbooks and music videos. Since opening their brick-and-mortar store in the heart of Williamsburg last year, the Fool's Gold headquarters has doubled as a space to support these friends' brands, music and art. 

For more information, please contact Reid Kutrow, Linda Valenziano or Carla Sacks at Sacks & Co., 212.741.1000.